DISCLAIMER: The modifications described in the following text are for educational purposes only. In no way do I recommend that you apply these modifications to your own motorcycle. If you do choose to go ahead and modify your motorcycle based on the information in this document you will accept all responsibility for your own actions. The author(s) of this document, and host(s) providing it for you, accept no responsibility whatsoever. If you are unqualified to make any of the changes described herein but are bent on doing the modification, seek out a knowledgeable friend or professional mechanic for assistance.
Fitting a replacement oil plug in the cylinder head
It is surprising how often these little blighters leak and start to make a mess of your engine.
Their function is to blank off the hole that would otherwise be occupied by a de-compressor mechanism.
Tools needed:- plain screwdriver and a 10mm socket or spanner
Parts/supplies: New plug - see here - which looks like this: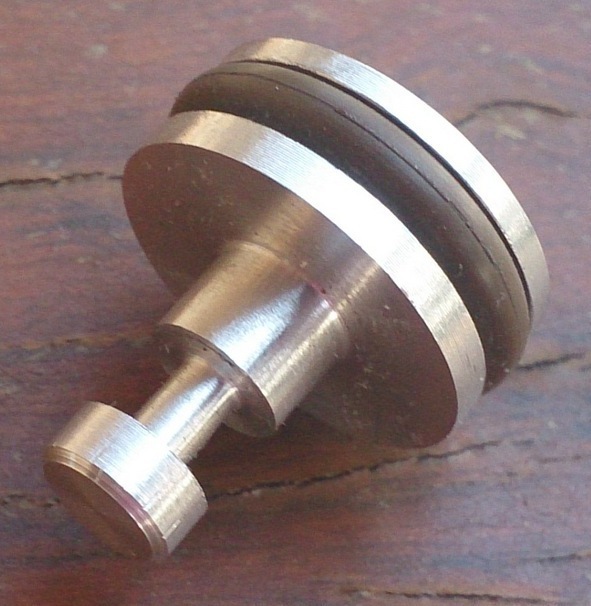 The symptoms of a leaking plug are obvious - a real mess and the smell of burning oil when the engine gets hot:
The following photo shows where a previous owner had unsuccessfully fitted a replacement standard rubber plug.
Remove the old plug by punching a hole in it and levering it out whilst being very careful not to scratch the aluminium sides in the head casting.
Clean up the hole ready for the new plug and next remove the bolt on the side.
Notice how little thread there is on the bolt so be careful that you don't over tighten it when replacing it. To give it the best chance of being oil tight without over tightening, I anneal the copper washer.
New bolts and washers available here.
The new plug ready to go in. Manufactured especially for Totally TTRs by an Exeter-based engineering firm.
Plug oiled and fitted along with its retaining bolt
Job done!
Brian Sussex

Compiled by Brian Sussex, Devon, UK
http://www.totallyttrs.com/ - everything you need (possibly!) for your TTR250
http://www.ttr250.com/ - all you ever wanted to know about TTR250s
http://ttr250.activeboard.com/ - the forum for TTR250 owners
http://www.totallywrs.com/ - for all your WR250R and WR250X after-market parts and accessories
Reference within this site to any specific commercial or non-commercial product, process, or service by trade name, trademark, manufacturer, private individual or otherwise does not constitute or imply an endorsement, recommendation, or favour by Brian Sussex or Totally TTRs